Quick-Fire Q&A: Everything You Need To Know About Middlegate Europe
---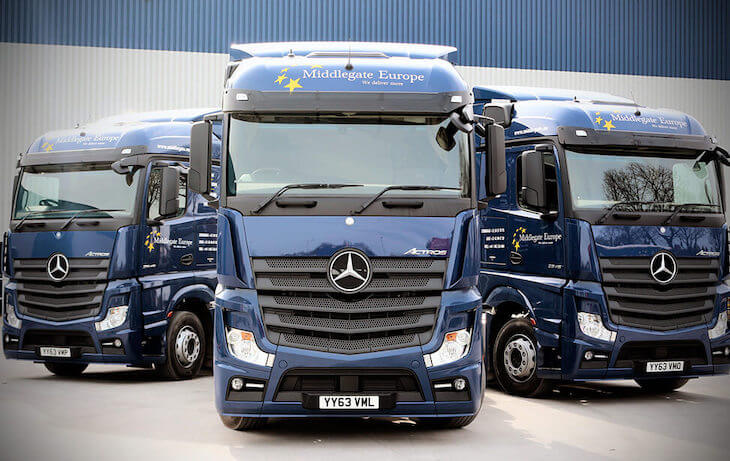 We answer some of the most common questions put to our customer support team, including what is a double deck trailer…
Here at Middlegate Europe, we have a friendly customer support team to answer any questions you may have about our business and the services we offer.
Below, we have curated the most common questions and provided detailed answers that we hope will resolve your enquiry.
Who is Middlegate Europe?
We are a leading European transport, warehousing, distribution and groupage specialist offering supply chain solutions for a diverse range of customers in Belgium, Netherlands, Germany, France, the UK and Ireland.
We provide solutions across your supply chain. From collection, storage, distribution and final delivery to your customers, we work with you to help improve all aspects of moving your products and goods from A to B.
What industries does Middlegate work with?
We work with businesses across a wide range of sectors including:
Aerospace
Automotive
Chemical
Construction
Food
Engineering
Live sciences
Healthcare
Metals
Packaging
Paper
Retail and Fashion
General Haulage
Where are Middlegate's warehouses located?
We have three warehouses based in Hull, Zeebrugge and Liege.
What accreditations does Middlegate have?
Our warehouses in Hull and Zeebrugge are British Retail Consortium (BRC) and ISO9001 accredited. We are also AIB accredited.
What is a BRC accredited warehouse?
The British Retail Consortium sets guidelines for the correct storage and transportation of food products. If you are moving food products your transportation your partner must be BRC accredited.
What is a bonded warehouse?
It is, in effect, a duty-free zone – it holds imported goods intended for export without them entering the local market, thereby ensuring that customs duties and taxes are not payable.
How do I choose the right warehouse facility for my business?
When it comes to warehousing, there are many different options to suit the many different businesses requirements we are able to meet.
To learn more about warehousing and how to choose the right solution for you, read our handy guide here: https://www.middlegate.eu/2019/11/07/how-to-choose-a-warehouse-facility/
What is a double deck trailer?
A double deck trailer has two levels, which helps to maximise trailer payload capacities. This makes them the perfect solution for efficient transportation of goods, especially for non-stackables.
What is the difference between double deck, mega and tyre trailers?
Double deck trailers have two levels which almost doubles the number of crates that can be carried, increasing from 66 for a standard trailer to 86.
As the name suggests, mega trailers are large in size and height, and can accommodate a much greater volume of cargo than standard trailers.
Tyre trailers are used solely for the safe and secure transportation of tyres. They come with a certified safe load securing system that does not require cross-tensioning in the load compartment.
How do I know what trailer I need?
When deciding which trailer best meets your transportation needs, consider the following factors:
The size and weight of cargo
Type of cargo (Is it perishable?)
The volume of the cargo (How many pallets)
The location and route
How many pallets fit on a double deck trailer?
52 pallets fit on a double deck trailer.
How many pallets fit on a standard deck trailer?
26 pallets fit on a standard deck trailer.
What is groupage?
Groupage is the process of grouping together shipments which don't fill a full trailer.
Groupage allows the haulier to maximise transportation and you to only pay for the part of the trailer you are filling.
How will Brexit effect the transportation and logistics market?
Brexit is likely to shake up the import and export market now that it is in force.
Middlegate is prepared and here to help; we have full solutions in place to make sure the transition period is managed effectively for all of our partners.