BRC accredited warehousing and transportation
---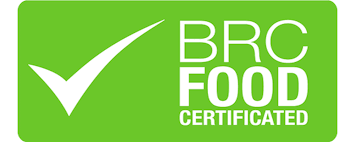 Middlegate are BRC Accredited
The British Retail Consortium sets guidelines for the correct storage and transportation of food products. This is why your transportation partner must be BRC accredited
As a food manufacturer, logistics and transportation are key to ensuring your produce and products are delivered to the retailers, supermarkets and stores that sell them to businesses and consumers.
Regardless of whether you are a small, medium or large-scale manufacturer, not having a dedicated transportation partner can make this aspect of your operation unnecessarily complicated.
Logistics and transportation specialists take the hassle out of moving your goods from the point of manufacture to the point of sale, and they do so as quickly, securely and cost-effectively as possible.
But as a food manufacturer you cannot work with any transportation partner; especially if your produce and products are stored in warehouses during the transportation process.
The partner you work with should offer food grade storage and specialise in handling food products. As an absolute minimum, they must be British Retail Consortium (BRC) certified.
The BRC Global Standard for Storage and Distribution was launched in 2006 and was designed to reflect best practice and facilitate a process of continuous improvement.
This is achieved through a "well-designed" risk-based product and safety management system.
The objective of the BRC Global Standard is to ensure that product integrity during storage and transportation are maintained and that business and consumer confidence is maintained.
Middlegate Europe is BRC accredited, which means we meet the highest possible standards when it comes to the proper storage and transportation of food products and produce.
This means that our customers can rest assured that food products are being stored and transported to best practice and that everything is being done to prevent damage occurring.
In addition to this, we are one of the most established and trusted haulage and logistics companies in the UK and Europe, particularly among food manufacturers and brands.
This is why…
From our UK headquarters in Hull, we have unrivalled access to major road, rail, air and waterway transport networks covering Great Britain and beyond.
Our warehouse is located just a stone's throw from the port, and we are also connected by dual carriageway and road links to the M62 and then the M18 and the M1.
In addition to this, our warehouse in Hull – as well as our other units in Bierset and Zeebrugge – is state of the art and, of course, BRC accredited to the highest levels.
We also offer wide range of trailer options to meet all transportation needs and requirements. Our fleet is made up of:
• Box trailers
• Double deck trailers
• Mega trailers
• Tyre trailers
We have found that our mega trailers are particularly popular with food manufacturers and brands as they are one of the most cost-effective and environmentally friendly ways to transport produce.
For smaller manufacturers, our groupage service means they can send produce even if they do not have enough cargo to fill an entire trailer.
By being grouped with other shipments, smaller manufacturers can still send their produce when they need to without having to pay for an entire trailer even if they are only using half of it.
Of course, there are many logistics and transportation companies that work across the UK and Europe, but only a few have the experience and expertise of Middlegate Europe.
This, combined with our BRC accreditation and reputation for delivering a 5-star product and service to our customers, makes us the best choice for food manufacturers and brands.
To learn more about Middlegate, our trailers and services and how we can help food manufacturers and brands, contact our customer support team here.