What's a Bonded Warehouse and Do You Need One?
---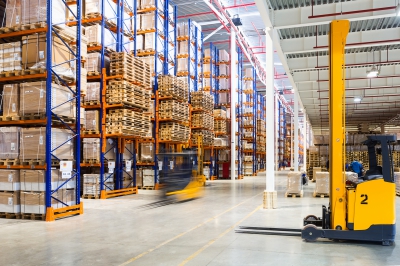 Bonded Warehouses
Bonded warehouses can save significant costs when it comes to customs duties and VAT. Here's what you need to know…
A bonded warehouse plays a key role in modern logistics.

It is, in effect, a duty-free zone – it holds imported goods intended for exports without entering the local market, thereby ensuring that customs duties and taxes are not payable.

To put it another way, your imported fridge freezers can come from China and be held in Hull, until such a time that you export them to a buyer in the Nordics without having to pay for them to enter the UK market.

They're also known as customs warehouses.

To quote Her Majesty's Revenue and Customs (HMRC), 'A customs warehouse allows traders to store goods with duty or import VAT payments suspended. Once goods leave the warehouse, duty must be paid unless they're re-exported or moved to another customs procedure.'

Bonded warehouses aren't for everyone – if you've got perishable cargo, for instance, you're unlikely to be wanting to use one either as a location stop on the way to its final destination, or as a storage facility into the local market. Yet for others, they can hold significant appeal.

For instance, if you've imported goods but don't yet have a buyer, either in the UK or abroad, a bonded warehouse allows you to safely store items without having to pay relevant duties or taxes.

From a cash-flow perspective this is ideal – rather than risk losing not only your initial investment but also the duties and taxes, you can insulate yourself until you you have a buyer. If they're overseas, and therefore you're now exporting, you won't have to pay any duties at all.

Bonded warehouses are primarily for storage, but you are able to handle the goods to a certain extent. HMRC's guidelines state that you can enter the warehouse for the following reasons:

make sure goods are preserved
improve the presentation or marketable quality of goods
prepare goods for distribution or resale
Again, this makes it ideal for any businesses involved in the importing and exporting of goods from one location to another, particularly those with a heritage in their local market.

It's also useful for the handling of restricted items, which may require additional legal paperwork before they officially 'enter' the country.

Another reason might be if you're bringing in multiple products which need to be combined – being able to store items in a bonded warehouse means you won't have to pay duty until all your cargo has arrived and you are ready to move it into your own storage.

When choosing a bonded warehouse, it's worth considering one managed by a carrier that can offer a complete transportation package. These all-in-one solutions take some of the complexity out of your supply chain, while still giving you full control over your cargo.

At Middlegate we support businesses importing and exporting between the UK and mainland Europe, with our state-of-the-art warehousing in Hull, Zeebrugge and Bierset.
To find out how we can help you with your bonded warehousing and wider logistics needs, get in touch.